Hey all! Kristina and I try to make an afghan each month for Newborns in Need to share with everyone. You can see our past patterns HERE.
Today I want to share with you a fun new Rainbow Weave Afghan.
For this weave, I kept it simple but I have so many ideas running through my head to make this simple afghan even better! I am thinking you will be thinking the same thing! Gotta love unrestrained creativity! 🙂
Rainbow Weave Baby Afghan Free Crochet Pattern 
End Size Approx. 2 x 3 (not counting fringe)
1 Pound of Baby Love Antique White
1 Pound of Baby Love Blue
1 pkg Lion Brand Rainbow bon bons
I hook
With blue and white together, Ch 88
(for a larger afghan add 21 chains  – that gives 1 more row per color of rainbow)
Dc in 4th chain from hook, dc in next chain,* (ch 1, sk 1), dc in next ch, dc in next chain, repeat * (28 ch 1 spaces)
Repeat for total 36 rows (add rows for a larger blanket)
F/o and weave in ends. 
Rainbow: Cut 4 strands each color (7 colors) at 60 inches (if you changed the size of your blanket, you will need longer strands)
Thread onto crochet needle, keeping ends even, and weave over/under the chain 1 spaces, knot at each end securely, leaving approx. 3 in fringe.
( I weaved ours the same way through but alternating (more basket weave) would be cool too!)
Cut 16 more of each color @ 8 inches, use 2 pieces together to make additional fringe. Neaten edges if needed (mine never turn out perfectly even and need trimming!)
We create these afghans for donation to the local hospitals via our local Newborns in Need chapter. While the nurses at our hospitals here prefer clean edged afghans for the newborns, sometimes you just have to have some fringe! If you do not want fringe, just weave in the ends of your rainbow colors and/or add some additional rainbow edging!
There you have it, a fun and colorful one of a kind unique rainbow for any baby! I was thinking this would look cool on a wall too or floor or anywhere! I love rainbows though so I might be crazy!
Thanks for surfing the sky with us today! Hoping you find your pot of gold!
Millie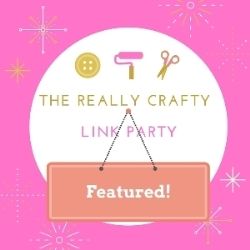 This post may contain ads, affiliate links and/or we may have been compensated in some way. See our
Disclaimer
for more information. If we can, here is where we party:
Sun: 
Dishing it & Digging it
 /
Stash Buster
 /
Over the Moon
  /  
Family Joy Blog Party
Mon:
 Amaze me Monday
 /
Bernideen's Tea Time
 /
No Place Like Home
 /
Really Crafty 
 /
Art of Home-Making
 /
Making your home sing
 /
Good Morning Monday
Tues:
Nifty Thrifty Tuesday
 / 
 Inspire Me 
/ 
Pin-spiration Link Party
 /  
2 for Tuesday
 /
Fiber Tuesday
 /
Brag About It
 /  
Community Link Party 
Wed:
Link & Share Wed.
 / 
Hookin' on Hump Day
 /
It's a Party
 / 
Happily Homemade
  /
Thurs:
Share Your Cup Thursday
 / 
Treasure Hunt Thurs
  /
Thriving Thursday
 /
Creatively Crafty
 /
TaDa
Fri:
The Pinterest Game
 /
Funtastic Friday
 /
FTAF Weekend
 /
Sweet Inspiration
 /
Peace, Love, Link Up
 /
Homestead Blog hop
Sat:
Craft Along
 / 
Snickerdoodle Sunday
 / 
Saturday Link Party
 /
Saturday Shuffle
Filed in: Charity • Free Pattern